As a part of the
Feast of the Senses "Self-Drive Artist Trail
" Sal Badcock is painting under the awning outside Oceania both
Saturday 20th (today) and Sunday 21st (tomorrow)
. Sal be there between
10am and 3pm both days
. Come and grab a coffee and have a chat.
There are also other artists from both local and Innisfail areas participating in this event, a full list or artists is available from the
Feast of the Senses website:
http://www.feastofthesenses.com.au/
Sally Moroney
and
Barbie Brayshaw
are our two other local artists participating this weekend, details of how to find them and when they are available can be found on the above website.
So go for a drive, check out some artists in their studio spaces and have a good old chat to them about what they do.
As artists, they are communicators and love to share their passion and their art.
Mission Beach Community Association
is in the process of compiling its
2010 'State of 4852 Mission Beach
' report and if you have any items to report which could be included in the report please forward. Although they try to cover most of 4852 area there could easily be some items that have been missed and that need to be addressed by Council. Previous reports can be found on their
website
. Next meeting is on
Tuesday the 13th of April
7.30 pm at the Mission Beach Resort.
Mission Beach Meals on Wheels once again has a shortage of volunteers, either cooks or deliverers. Please contact Brenda on 4068 7245 if you can assist.
* * *
CALL FOR SUBMISSIONS FROM ARTISTS & ARTS WORKERS - COMMUNITY PARTNERSHIPS UNIT
Cairns Regional Council's Community Partnerships Unit is calling for submissions from people with skills and experience
in any field of the arts
, to be considered for an
Artist & Arts Workers Database
. All creative skill sets considered. Contact Lucy Hart on (07) 4032 6605 or
l.hart@cairns.qld.gov.au
MB Community Art Centre Membership
Adrian Walker - Snake Whisperer

Book Launch soon in Mission Beach
* * *
Earth Hour 2010 takes place on Saturday 27 March at (local time) and is a global call to action to every individual, every business and every community throughout the world. It is a call to stand up, to take responsibility, to get involved and lead the way towards a sustainable future.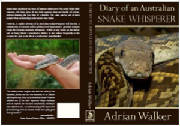 Local naturalist and author
Adrian Walker
will be
launching his new book "Diary of a Snake Whisperer"
, published by Boolarong Press, this month. It is a mixture of snakey wisdom, scientific information, and amusing tales of some of the bizarre rescues, of both snakes and humans, that he is called on to perform. As well as the entertaining tales, the book is illustrated with photography by Michael Anthony, and black and white drawings by Daryl Dickson. Join us for drinks, nibbles and snakey chat at the
Mission Beach Visitor Information Centre from 4pm on Saturday, 20th March
, or at the
CRACA office and Gallery on Monday 22nd March
For more information, please ring CRACA on 4068 2589, or Adrian on 4068 7531
New History Topics:
Tully Memorial Pool beginnings 1965 Tully Sewerage 1966 More ...
Grapevine is Back! Download
Cliff stabilisation has begun at Bingil Bay on a 40 metre section along Alexander Drive (below houses near and including the Bingil Bay Resort area). Works will continue for 10 weeks, weather permitting, and Mager Construction said disruption to traffic will be kept to a minimum until the middle of May.

Regional Arts Development Fund (RADF) Program Open CCRC to support professional artists and artsworkers to practise their art for mutual development of the communities in regional Queensland. Closes Friday 19th March 2010. More ...