2 NEW Local DVDs - $25 each
Available Mission Beach Visitors Information Centre
Tully Visitors Information Centre
"Hearts Full of Hope" Italian Pioneers Book Launch - February 2008
40 min
"Mission Beach Aquatic Festival 2004 - 20th Anniversary"
40 min
Available Mission Beach Visitors Information Centre and Tully Visitors Information Centre or send cheque, money order to Cassowary Coast News 26 Bingil Bay Road, Bingil Bay 4852 stating quantity required
($25 inclusive of postage and handling)
"Hearts Full of Hope" Book Launch February 2008

40 min dvd of book launch at Tully Country Club by Italian Pioneers of Tully District Committee.

Cake cutting, speeches, presentations, singing, Italian community at play and respect, more ...

"Mission Beach Aquatic Festival 2004 - 20th Anniversary"

40 min dvd 2 days - Parade, auction, dancing, fireworks, tinnie races, Iron Boys, Girls, Maidens and Men, beach races, parachute jumping, lolly drop, sand castles, more ...
It seems people are having difficulty in downloading these videos once they are on youtube.com. It depends on your computer download speed (dial-up vs dsl, etc.)
Press Pause on the loading video and allow pre-loading for 2 mins or so. This will advance the video (red) then pull 'film speed tab' back to start from beginning. Once you have downloaded and played it once it should be in your computer's memory for quicker playing next time.
Sound and video of Light Horse
Hear the story of the Battle of El Arish and why El arish is so named! It all has to do with Light Horse!
Pat Morrish of ABC Far North interviewed Cassowary Coast News Peter Kellett about the origins of the 1922 soldier settlement off the Bruce Highway, El Arish or LA to locals.
Then have a look at a Light Horse operation at Beersheba, another prominent battle towards Jerusalem in WWI. Marvel at the discipline!
For those officenados there is the classic Errol Flynn "Charge of the Light Brigade" from 1936. Enjoy and remember Chris is looking for honourable teens and men, who can ride at a gallop and pick tent pegs out of the ground. We will follow this amazing team!
Download Battle of El Arish first (Sound - Allow a 30 sec download time)
"El Festa dell' Emigrante"

Italian Dinner Dance

One of three Dinner Dances held by Innisfail Italian Community. A fabulous night to enjoy Italian hospitality - what delicious food and cakes and atmosphere. The dancers from Dance Works were excellent and so were the musicians.

Last Saturday night 8th March 2008 at Wangan Community Hall. Another superb night out seeing how others entertain themselves in the FNQ! Next one in June 2008 and the Christmas one in December. 10 mins
Sea Critters Board Launch
Mission Beach Artists Gallery
6 min 15 sec
16th February 2008
Launch of school holiday project to create amazing magnetic sea critters at Mission Beach Artists Gallery, funded by Arts Queensland and Johnstone Shire Council through their RADF Committee.
Noisy Pitta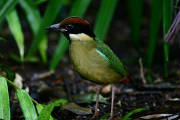 Photo: Phil Bender
Launch of Adrian Walker's book -
Cowley Beach Australia Day Party
Cowley Beach celebrated its first Australia Day at the Defence Force Establishment with thong throwing, 'fly' fishing and other activities.
Video 4.40 min
A small local event but significant otherwise for community involvement and patriotism
Art Deco Society Dance April 2007
- Dance at conclusion of Ninth International Art Deco Society conference at Prahran Town Hall, Melbourne in April 2007. These international guests had the time of their life! 3 min
Santa Claus
Mission Beach Christmas Carols
Mission Beach Christmas Carols -
Christmas Carols in tropical Far North Queensland at Mission Beach State School with local choirs and excellent soloist performers and, of course, Santa arriving in summer. Merry Christmas! 10 min
Apprentice & Trainee Awards
Mission Beach Natural & Cultural Values
Tully Bowhunters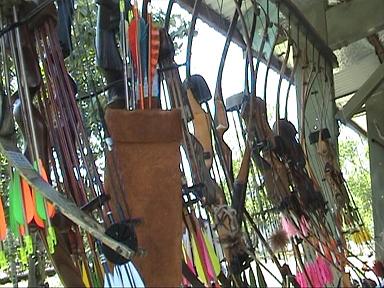 Feast of Three Saints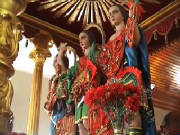 Silkwood
World Youth Day

Tully
17th September 2007
Cross & Icon Arrival
El Arish Visit
10 min Video ...

VIDEOS VIDEOS VIDEOS
Cassowary Coast
Fly-over Innisfail, climb top of Bartle Frere, Drag Race South Johnstone, check out Babinda, Tully, Paronella Park, skydive Mission Beach and lots more!
Add more links!!
Tonnes of videos have been posted on the internet and here are a selection that were taken by various filmakers about the Cassowary Coast area. If you have any links or movies please submit.