James Walker Cutten - Bingil Bay

Brothers (l-r) Herbert, Leonard, and Sidney 1912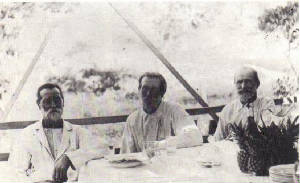 Click to enlarge
In 1885 James Walker Cutten, who had been a farmer on the Darling Downs at 'Felton Homestead', became manager for his brother of his 900 acre selection at Clump Point (Bingil Bay, Mission Beach opposite Dunk Island). As they and two other brothers cleared the land over the next eighteen months they planted maize, before they eventually tried fruit trees, but the land was too rich and the maize did not do well the first two crops. They also tried sugar and it grew very well.
The soil of their scrub land was very good and was nothing like the soil on the Darling Downs, nothing to be compared to it in strength, as it grew anything. Had the 'Felton' soil been at Clump Point it would have been unmanageable, on account of the extreme wet weather.
They employed aboriginal labour with as many as fifty some times but, on an average, about ten, keeping records of all the boys and the day labour they did.
For the first eighteen months the brothers' health was not good at all and they had fever continually. But with the help of the aboriginals, within four years, they cleared thirty acres of dense scrub, put it under cultivation, had a house built, fencing done and other buildings put up. They also made a breakwater to land their goods under, as without it they could not land anything from a boat.
Breakwater 1895 - 30ft Sail boat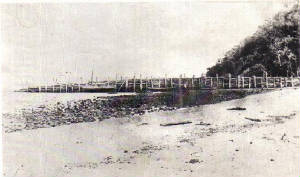 Click to enlarge
1902 - Aboriginal gunyahs on Bingil Bay Beach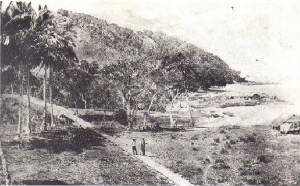 It paid to employ aboriginals as they recompensed them with rations, and, those who were sufficiently civilized, were given clothes as well. Then there were the friends, of those who worked, to keep as well – women, boys and old men. But just as they needed these aboriginals the European beche-de-mer fishers from all ports between Townsville and Cooktown came, offered illegal inducements of grog and took the boys away. This prompted calls to stop this as farmers wanted to be allowed to engage the boys under agreement.
The beche-de-mer fishers left the Cuttens very little labour, and that, only the refuse of the very young and the very aged, after they took away all the best men, whom they had fed and clothed, just when they needed their labour. They took them away at the best part of the season and landed them again without feeding them, during the wet season, and the Cuttens then had to feed them all when they did not have any labour to keep them employed. Upon their return the fishers paid the boys in flour and tobacco but this was all consumed within a very few days while the boys did nothing at all.
At times the boys would go into the bush after working for a short time and this would have been one thing the Cuttens would not have objected to if the boys were indented to them, as an agreement would simply be a protection against the boys being taken away from them. Compulsion could not be used with the aboriginals And the blacks only ever caused very light depredations against the Cuttens.

In 1888, of the 900 acres of homestead selection of the Cutten brothers at Clump Point, nearly 30 acres were under fruit cultivation with pineapples, bananas, mangoes, citrons, oranges and lemons. They had a few odd plants, such as cocoa and coffee, but this year was a bad season and nearly put an end to the plants. And with only being planted three years there had been no yield as yet from the fruit trees.

Any returns they had were from the pineapples, bananas and maize and at this time they employed five kanakas, who were time-expired boys. They had found the aboriginal labour unreliable and could never be certain of having them. They had never employed Europeans, except their own labour, as the industry would not admit of the employment of whites. Thankfully their health had been very good the past year.

Their bananas were sent at a cost of 6d per bunch to the Townsville market by the steamers 'Palmer' and 'Burdekin', which called once a week, the former more regularly. They put their fruit in their own boat and took it out to the steamer where the fruit-in-cases weren't treated badly but the bunches of bananas were smashed dreadfully, and taken no care of. There was no record of the average loss to the bananas from injury in the boat as the bananas were sold direct to the agents at so much a bunch.

The year was bad for bananas, and while they had a small crop of pineapples, bananas only realized from 1s 3d to 1s 9d in Townsville.

The aboriginals were a heavy charge on the Cuttens because, being a bad season, they had not enough potatoes to give them, and if rain did not come soon, and cause the potatoes to grow, it would be a serious expense to them, because they had to be fed, and in a bad season the fruit in the scrub were not such good crops as they usually were.

Application for the establishment of an aboriginal reserve had not been made by the Cuttens as they did not think they were of any value. If a reserve was established, and it was known that they could get food and clothes without work, it would become a harbour for loafers. If a reserve were established, the motto should be "No work, no ki ki." There were no missionaries amongst the blacks at Clump Point at all.

If the government were willing to assist with supplying rations to the aboriginals the Cuttens were willing to distribute them.

If there was the possibility they could not obtain aboriginal or kanaka labour the Cuttens would not carry on operations after they had fulfilled their conditions and got full possession of the land unless they made an experiment first to find if it was useless. They had settled on this piece of land as a home, so they would either lease it or do something else with it.

About a mile and a half from the Cuttens there was Smith's selection where he was successfully growing tobacco and selling at 9d per a lb, which the Cutten brothers were experimenting with in a small patch. Smith had four acres planted but even though it had been too dry this year he was satisfied and was planting more.

The Cuttens believed that after time tobacco would pay with the labour they had but it did not pay to employ Europeans as they would have to wait too long for any returns. As support, another two brothers at Croydon were sending money to keep the farm afloat. They took contract work and remitted their earnings to reinvest in the farm. Without their assistance it would have been impossible to carry on.

The brothers praised the work of the kanakas and had as many as they could pay at 10s a week and their rations, being one pound a week and their clothing plus medical attendance when they required it. Tobacco and clothing came to about 6 pounds a year, as tobacco was mentioned in their agreement under the Act.